Ah, absolutely nothing feels better than a having a new PC. This time, like the last time, I decided to go all out and get top of the line. I started with a budget of under 3 grand, and I made it just intact. My new PC came out beautifully done. First of all the specs.
Cooler Master HAF X Newegg Blue Edition
Asus v-Pro LGA1155 Trisli motherboard
Intel 2600k @ stock 3.8Ghz
Corsair H100 CPU cooler
Corsair Vengeance 16GB (4x4GB) quad channel kit
Coolermaster Silent Pro 1200Watt 80+ Gold PSU
2x PNY Liquid closed circuit GTX 580 overclocked (Base 772Mhz - OC 857Mhz)
2x INTEL 510 120GB SATA3 SSDs
I would like to dedicate this first segment to Cooler Master. All I can call whomever is working there is genius. Everything in this case is genius. They have thought of E.V.E.R.Y. S.I.N.G.L.E. T.H.I.N.G. They really did. Opening the box I saw a 8-pin extension and thought who the hell needs that? Guess what, I hook up my PSU and it did not reach. So that made me happy. The geniuses (Sarcastic this time) down at PNY included 4 screws to hook up the fan but did not remember that the RAD needs to be mounted too. I found perfectly sized screws for that one too in the HAF screw bag which included half a pound worth of shaped metal. All the fans in the case have a switch to turn off/on the LED lights in the fans too. So next time you build something and want it to go flawlessly, go CoolerMaster. Amazing. Here's a picture to hold you off and make you read on.
I could not for the life of me figure out how this whole RAID setup work. I simply just couldn't get into RAID setup page. Tried every single possible combination in their EFI BIOS (First time with EFI and it's quite interesting to say the least.). I guess I am stuck with non-RAID'd SSDs. Reading around the nets, it seems that SSDs hate RAID. My single SSDs are reading at 250MB, so not bad at all.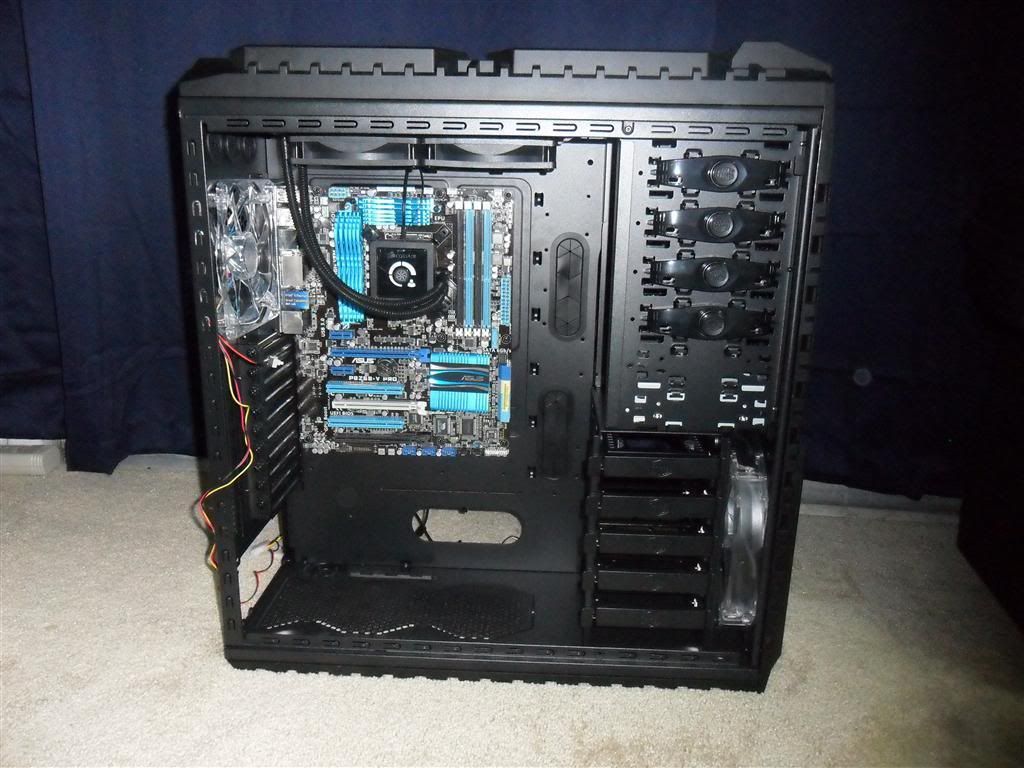 On to the CPU. Beautiful piece of silicone this turned out to be. Running stock because I love this temp it is running at. My ambient temp is 25C and the CPU on idle is at 27C. Just great. Who needs Liquid cooling if you have these closed circuit loops? Corsair outdone themselves on this one. I am now thinking the H70 I got a while back was defective because this one is top notch. The RAM however, felt very cheap. It just doesn't compare to the Dominators I currently own. It feels very plastic'y on the outside. But since it's running very well and 400 less than last year's purchase of 12GB Dominators I'm pretty 'ok' with it.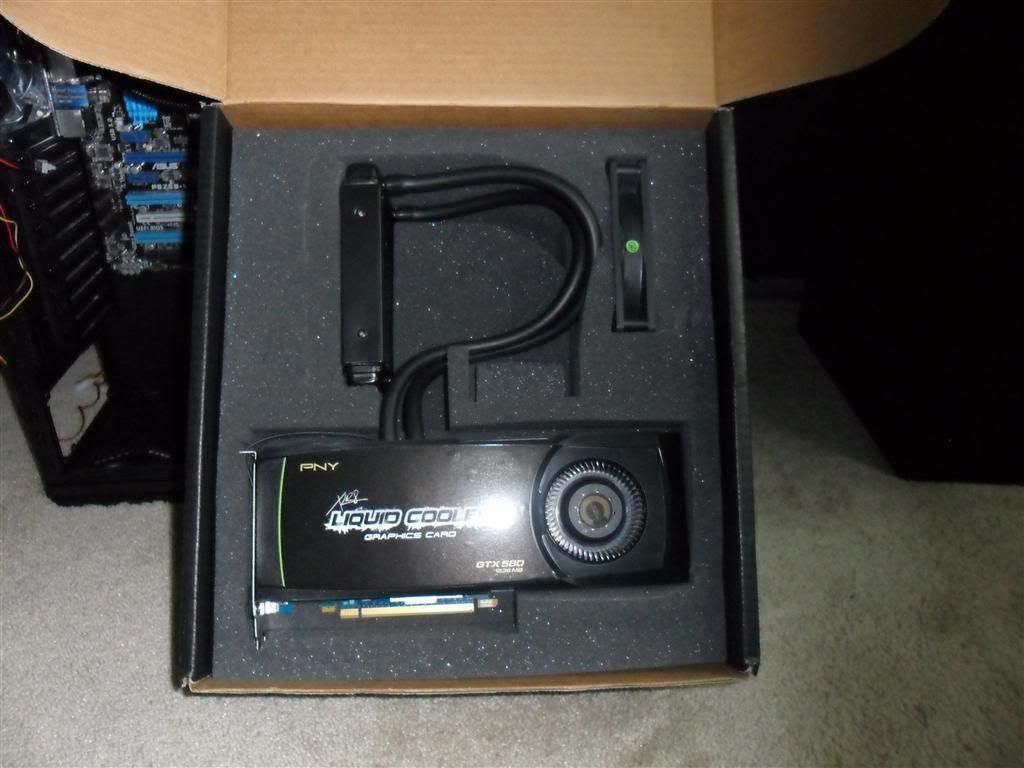 The GTX 580 from PNY comes overclocked from 772Mhz stock to 857Mhz and doing it 20c degrees below any other 580 out there. I sure hope EVGA is following in their footsteps because this is the future. The stock 580 is $70 less than the water cooled one. To me, that is a bargain. The only issue I ran into is the fact that they did not include mounting screws for the radiator. This is when Cooler Master genius comes yet again. I started trying the screws that came with the case. Sure enough, those gigantic thumb screws that you close the case with fit microscopically well into the rad. So that solved that.
As the clever bunch you guys are should have noticed by now, there are 2 120mm rads for the Graphics cards and another 240mm Rad for the CPU cooler. This was a challenge. A very small challenge but a challenge nonetheless. So I start with the H100. It fit within milliseconds. Very easy installation compared to its predecessor. Screw, mount, screw, wham, bam, thank you, ma'am. The hard part was when it came to the top 120mm Rad from the top GFX card. There is only 4 screw mounts in the HAF X top to put the 240mm comfortably up there as exhaust. The third hole up top did not have any screw holes. So I decided to drill a few. Mind you, I am the least handy person you can find. I still don't check my car's oil or antifreeze, but I digress. I made the most beautifully drilled holes (giggles) ever. I mean they came out so perfect that when I held the Rad under it the screw holes it aligned to the .00001 of the millimeter. Thanks to a simple ruler. I used 2 screws (Also came with the HAF case, it's magic) to tie the fan from the right, and a zip tie to hold the third top left corner to the case. Now that I have that done, I went ahead with the exhaust fans. That was a very easy one. Now I have a useless 140mm fan to be discarded, but I was smarter than that (For once). I transferred the 140MM to the empty 200MM fan slot up top, and held it down with only one screw.
So now let's count the fans in the case. Start up front is a 200mm fan in-taking fresh air. Bottom is empty, it doesn't even have holes. I guess you can drill in a 120mm fan down there as in-take. The back has a 120mm fan and radiator exhausting (GPU). The top, dear oh dear, the very top has 200mm fan with a 140mm fan right next to it. Below those fans are 3 120mm fans attached to a 240mm rad and a 120mm all exhausting.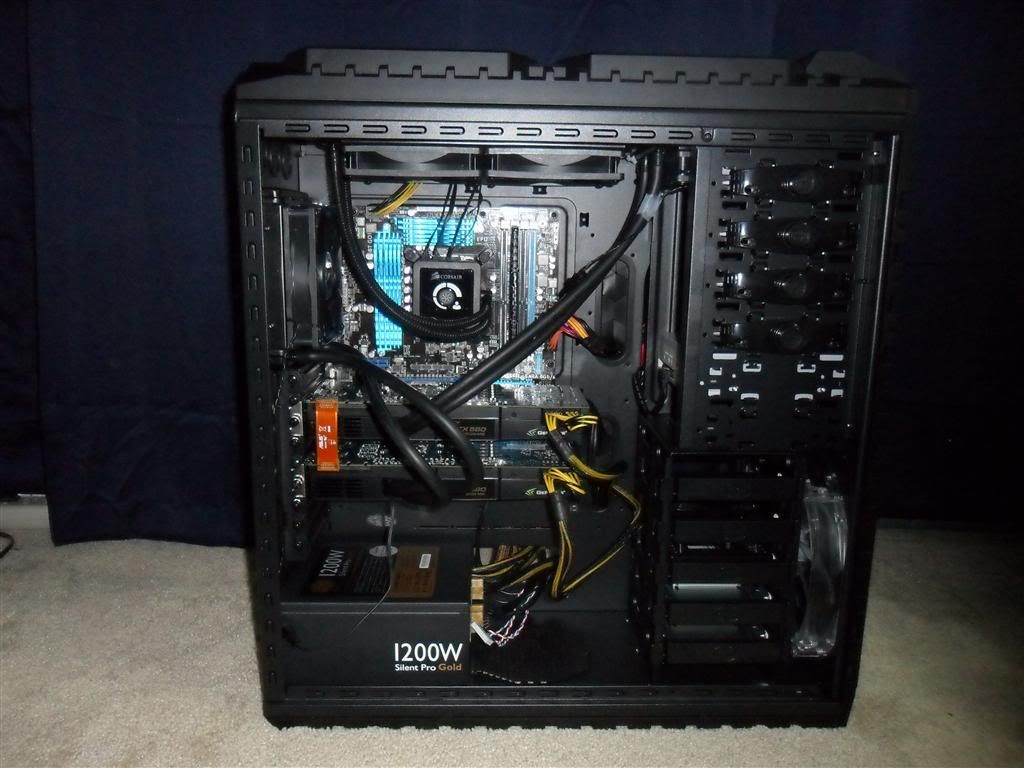 As I was on newegg, I chose a 1000watt PSU and out of nowhere some British sounding guy starts yelling at me saying "DO NOT SKIMP ON THE PSU YOU IDIOT I WILL KILL YOUR PARENTS!" So, I decided to go with a 1200Watt since looking at benchmarks, 2x580s in SLI draw in a maximum of 800Watts. Not to mention mine were overclocked. So I hope this 1200Watt is enough. The thing weighs about 12 pounds on its own so I assume it's top of the line, then again, it is Cooler Master so no need to question it.
This is some PC right now. I decided to go ahead and play BC2. Single player, snow map. 1980x1050 All high, 16 AS and 32AA. According to FRAPS, averaged 120FPS. It never went down under 100 the entire time I was playing. And I was blowing stuff up left and right.
I guess this is important too, the temps- after a 30 minute session in BC2.
Dark:
Yes, it looks like face. Freaky.
What do you guys think!